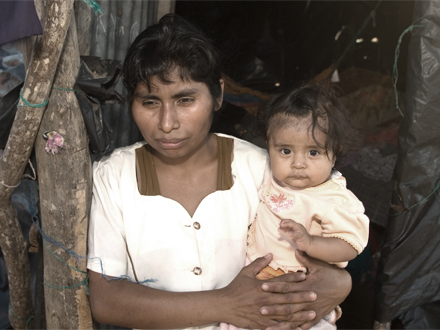 Alma's Story
Alma and her children were living near starvation on the mountainside in Guatemala a short time ago--their lives tragic and then came the hurricanes. Her home and everything they owned was buried in a massive mudslide.
Alma and her children were loaded on a bus and wound up living in an open field. She built a "house" out of plastic bags, tin, sticks, and rags. You could see through the walls; the roof would not withstand a gentle rain, much less a storm.
She told me that for months she had but one prayer: "Lord give me enough to feed my children today. Just today. Tomorrow I will pray about tomorrow."
God's love was greater than her faith and expectations. Our Bridge of Hope partner in Guatemala delivered the 250,000 meals we shipped to this makeshift village. In addition, Alma was provided a real house... with concrete floors, sturdy walls and a roof that will keep out the rain when the rainy season returns.